Thursday, December 15th, 2011
We know you all take Miss Sandy's advice when it comes to cutting and styling your child's hair.  Well now she has some suggestions of her favorite stocking stuffers!  In addition to being a wonderful stylist, Miss Sandy is also a mom of 4…2 daughters and 2 sons and is quite experienced in shopping for stocking stuffers!
Here are a couple of her favorites!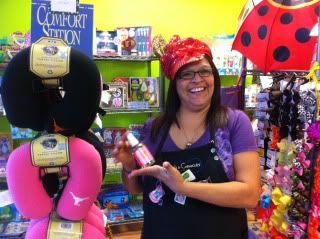 1.  Product name: Sequin Holiday Hat (on Sandy's head!)
What do you love about it?  "It's so fun and funky!  It can dress up any holiday outfit.  My 9 year old daughter will LOVE this!"
Who would this make a great gift for: "Any little girl, tween, teen, or adult who loves hats!  In addition to different colored sequin hats we have them in pink camo and cheetah also.  They are inexpensive and SO stylish!
Price: $8.99
2.  Item name: Hair Shots (in Sandy's hand in pic)
What do you love about it: "What's not to love?  It makes my stinky hair smell like cotton candy! (Or strawberry, pear, etc…) When I or the kids start to get sweaty we suddenly start smelling AWESOME instead of stinky! It's like febreeze for your hair!"
Who would this make a great gift for?: "Anybody active.  Especially sports players, gymnasts, or dancers.  Great for adults who work out,too."
Price: $10.00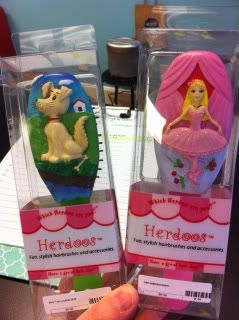 3.  Item name: Herdoos mini brushes
What do you love about it?: "They are perfect sized for stocking stuffers and perfect for small hands!  Boys love the dog brush and girls love all the princesses and ballet brushes. I love teaching kids how to take care of their hair."
Who would this make a great gift for?: "There are lots of different ones so there should be one for almost any child on your list.  And older girls and adults like the larger sized brushes."
price: $9.99